05.24.12 - Milla at amfAR's Cinema Against AIDS gala at Cannes:
05.23.12 - Milla at the Chopard and L'Oréal Party at Cannes:
Milla at Cannes for the premiere of On the Road:
05.21.12 - Milla's new single "Electric Sky" is now available on iTunes as well as Amazon
!

05.20.12 - From @MillaJovovich:
hey! here's a link 2 @chrissbrenner, @stuartzender and i playing our new single "electric sky" at the #LIFEBALL!
@_MyNameIsAdam_ i didn't lip-sync blood! i was singing live to track!
05.19.12 - From @MillaJovovich:
It's so incredible at the #LIFEBALL! I had the privilege of meeting our former pres. Clinton! He is doing so much 2 help fund medicines 2 reach children in 3rd world countries working with an unbelievable woman named catherine tucker who has an orphanage in Cambodia. They save children's lives every single day. What a honor to meet the real heroes.
Lol! It's a bit blurry but finally here is a pic of bill Clinton n I! I already have one with Hillary, so my collection is complete!
Hey guys! I jst heard that u can listen 2 my new single "electric sky" on YouTube! Check it!
Actress Milla Jovovich, representing the American Foundation for AIDS Research, appealed for donations to fund comprehensive medical treatment for victims in places like eastern Europe, Asia and Africa.
"It is so simple. We need medicine for everyone affected,"
the Austria Press Agency quoted her as saying. [
article
]
Nearly 40,000 people dressed in colourful costumes attended this year's Life Ball, Vienna's glitzy annual AIDS charity, Saturday, with actress Milla Jovovich and former US president Bill Clinton among those adding to the star factor. Jovovich was on hand to represent the US AIDS research foundation amfAR at the milestone 20th edition of the event, while Clinton, a regular since 2007, also attended for his Clinton Health Access Initiative project. "What is important ... is that we are here to educate people. That's why we're here, to say what's going on," said Jovovich. [ article ]
Milla with organizer Gerry Keszler at last night's welcome party for the 20th edition of the Life Ball in Vienna, Austria (Milla is representing the US AIDS research foundation amfAR):
05.18.12 - Milla's new single "Electric Sky" is now available!!
From @MillaJovovich: Hey guys! My new track is available on amazon already! Check it! Electric Sky [ Amazon
]

From @MillaJovovich: news update just came in on the new RE:Retribution trailer! it should be out in abt a month before "that's my boy" (june 15)! will keep you updated!
05.16.12 - More music news from @MillaJovovich:
The countdown is on! Thrilled 2 be part of the amazing @lifeball in Vienna representing @amfAR to raise $ for people living with HIV & AIDS.
WOW! we might actually be able to get my new single "electric sky" that we'll b debuting at the #LIFEBALL onto iTunes by the 19th of May!
it's all happened so incredibly fast,but i'm so proud 2 play my 1st new song live to help raise funds n awareness 4 AIDS research!
@FreddiieFonck i'm shooting a vid directed by my boy @simoncahn that i'm trying to get out by july for this song!
@NatyTrickyAngel no, don't have a name for it yet... still putting the tracks together in sum comprehensive manner 2 get my brain around it!
Madame Figaro (France) July 2012: Milla as Marilyn Monroe (photographs by Ellen von Unwerth) [ article ]:
05.15.12 - Bringing Up Bobby will be playing at the Santa Cruz Film Festival Thursday/Friday this week and the deadCENTER Film Festival in Oklahoma City on June 9/10. See Bringing Up Bobby's Facebook page and the official Bringing Up Bobby site for more information.
05.13.12 - Milla is part of Got Your 6, "a campaign led by the entertainment industry that will help create a new conversation in America, one where veterans and military families are perceived as both leaders and civic assets." For more information please visit gotyour6.org.
05.11.12 - Avon shoot in New York City:
05.09.12 - New music by Milla coming soon!! From @MillaJovovich:
Crazy news! In actually going 2 perform my new music at the "life ball" in Vienna!!!My single is called "electric sky" n it's gonna be SICK!
So anyway, 40k ppl are gonna b at the "life ball" on the 19th which ROCKS! And @chrissbrenner @stuartzender n I will b rockin the crowd as we close the fashion show w our new track! And I'm trying to get it on iTunes, courtesy of my man Randy Jackson who's been so supportive of our new music! Thanks randy, u r an angel!
I'm making a video 4 "electric sky" which should be out online by July, but hey the "life ball" heard the track and flipped 4 it, so we decided "u'll never b ready if u try 2 b, so jst go 4 it"! Lol!
@mddeese yes! My single "electric sky" shld b available on iTunes by the 18th of may (if i can get it 2gether in time! Lol!)
@amkvinta yes! I did a song called "the mission" (iTunes / Amazon MP3) w maynard j, keenan 4 his newest band @puscifer! N u can download my demos from my website!
@AALIYAH_AKASHA I'm trying 2 release a 6/7 song ep in sept! "electric sky" is the single we decided on!
@thevinnys yes! We'll definitely perform in NYC! Hopefully this summer or early fall!

Me n my boy marc jacobs at the met ball! Thanks 4 the pic @WinnyBeale! RT @MillaJovovich you looked absolutely stunning at the Met Gala! This picture is perfect.

I'm shooting the new "Avon" fragrance commercial, so I'm tweeting between takes! Lol!
And yes!"avon's" fragrance is divine AND u hide the smell of human flesh when u wear it,so the undead can't smell you! It's win/win ppl!Lol!
Resident Evil: Retribution fan art: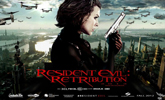 From @DerekBlasberg/@MillaJovovich:
Just like old times: Dinner with old friends (NOTE: not friends who are old) @MillaJovovich & @ChrissBrenner at Bond St
@DerekBlasberg @ChrissBrenner you 4got 2 mention who the photographer is! my 4 yr old daughter! look at the symmetry! look at that framing!
05.07.12 - From @MillaJovovich: Hey every1!It's a big night here in NYC!I'm representing 4 my mentor, inspiration n friend Muccia Prada who's being honored by the #metball!
Costume Institute Gala tonight in New York City:
Jacob & Co ads from millajovovichfan.com:
05.06.12 - Milla has passed 950,000 Twitter followers! Thanks to everyone who follows her and to everyone who entered MillaJ.com's free giveaway contest! The lucky winner of a signed copy of Lucky (US) September 2008 and a copy of Milla's 1994 album The Divine Comedy is Daniel.
The next giveaway will be at 1,000,000 Twitter followers. Prizes are still to be determined but I am working closely with Milla to make sure it is something very special!! More info and entry form can be found here.
Marie Claire (France) June 2012:
05.03.12 - Representing the US AIDS research foundation amfAR, Milla will join former US president Bill Clinton and others for this year's 20th edition of the Life Ball in Vienna, Austria on May 19, 2012 to benefit AIDS charities. [ Article ]
Interview from Yahoo! Philippines:
Q: Does your daughter understand what you do?
Oh yeah. She's complete set baby. She's understood that when papa says "action", or any director for that matter, like if she comes on a commercial with me, you don't talk until they say "cut", she's known that for years. She knew that on the last one when she was one and a half, two, but one this one, she actually met zombies. (laughs) Because on the last one, I don't know what genius put this floor plan together, but they had my trailer right across from the zombie makeup trailer on
Afterlife
, or whatever the last Resident Evil movie I did was called. (laughs) And literally, I come in, I'm seeing zombies walking in and out right in front of my trailer, I said to the AD, "Are you having a laugh, mate?" Like seriously, I have a one and a half year old child, that's going to be coming in about an hour and a half to eat lunch with me and I've got zombies walking in front of my trailer? But then Arianna, who is this little actress in the movie, became really good friends with her. Then she went to find Arianna who was in the makeup trailer with the zombies and she saw that her friend wasn't scared, so she was fine. And now she's scaring them, chasing them around. It was so cute; I mean she is definitely, probably the only four year old in the world that is not scared of zombies.
Q: She's a little fighter.
She is a fighter. We are all fighters. I mean, I come from a long line of revolutionaries and jailbirds, on both sides of the family. We've got the Russian Revolution on one side, we got Tito and my grandfather's crazy Communist crazy thoughts on the other, a pretty crazy history. So she's one of us, thank God for Paul. (laughs) Cheers, he can add a little bit civilization into the barbarism that I come from. (laughs)
Q: Do you remember the moment when you realized you were a public figure?
I think probably when Blue Lagoon came out. Because that was like the first time I did a movie that I had to go on a big promotion tour when I was 14 years old. It was horrible. It was horrible flying every day, waking up at six o'clock to get hair and makeup done, no offense, but to do interviews all day for a fourteen year old, I mean, it was not fun. And then reading really bad reviews of yourself, because of course at 14 you are like, what are they saying? (laughs) Oh. What did they say? Oh. (fakes crying) I don't want to do this anymore. And then my mom going, 'Look, you better toughen up kid, because if you don't have a tough skin, you will never survive in any business. I don't care if you want to be an actress or not, but you better stop feeling sorry for yourself, and move on and keep going.' And this too shall pass. (laughter)
Q: Do you remember when you felt validated for the first time?
Yeah, when I started writing music. For me it was something I could control, which was the guitar, and the words coming out of my mouth, which came from my brain obviously, we don't have to go into all the workings of that. But it was amazing, because to be able to actually go and start a band, and perform, and even though it was scary to have that feeling of 'Oh, this is mine and this is something that I do all separate from my acting,' but feeling that audience reaction of people really loving the music and being very taken aback too by it at the time. I felt like, as an artist, my first time that I felt like, 'I have something to give, I'm not just a useless little whatever fluff they called me in The Blue Lagoon.' And then of course, The Fifth Element, that was the part that made me go, 'Oh, I see, this is what it is to be an actor.' The light bulb above the head moment of like oh, just going, because when you are Leeloo you don't have time to think and with that language, with everything, if I was scared to look stupid, I would never have been able to make that movie. Luc (Besson) put me through so much stupid shit to prepare for Leeloo, so that by the time I would get on set, the acting coach who had me doing the stupidest stuff in public places, so that I would lose all inhibitions of looking like an idiot on set. Because he knew that with the language and what he would ask me to do, usually you would be embarrassed to be like (speaks gibberish). It sounds crazy, so my acting coach had me at the zoo pretending to be a monkey, (laughs) and all the people are looking at me. But you know, just to not be scared and make a fool of yourself, because I think as an actor, if you are scared to make a fool of yourself, you should just quit because you will look stupid. No matter how good you are, at some point, you'll do something that is really embarrassing and really over the top, or really stupid.
[ Article ]
What's New for 2018: Jan |
What's New for 2017: Jan | Feb | Mar | Apr | May | Jun | Jul | Aug | Sep | Oct | Nov | Dec
What's New for 2016: Jan | Feb | Mar | Apr | May | Jun | Jul | Aug | Sep | Oct | Nov | Dec
What's New for 2015: Jan | Feb | Mar | Apr | May | Jun | Jul | Aug | Sep | Oct | Nov | Dec
What's New for 2014: Jan | Feb | Mar | Apr | May | Jun | Jul | Aug | Sep | Oct | Nov | Dec
What's New for 2013: Jan | Feb | Mar | Apr | May | Jun | Jul | Aug | Sep | Oct | Nov | Dec
What's New for 2012: Jan | Feb | Mar | Apr | May | Jun | Jul | Aug | Sep | Oct | Nov | Dec
What's New for 2011: Jan | Feb | Mar | Apr | May | Jun | Jul | Aug | Sep | Oct | Nov | Dec
What's New for 2010: Jan | Feb | Mar | Apr | May | Jun | Jul | Aug | Sep | Oct | Nov | Dec
What's New for 2009: Jan | Feb | Mar | Apr | May | Jun | Jul | Aug | Sep | Oct | Nov | Dec
What's New for 2008: Jan | Feb | Mar | Apr | May | Jun | Jul | Aug | Sep | Oct | Nov | Dec
What's New for 2007: Jan | Feb | Mar | Apr | May | Jun | Jul | Aug | Sep | Oct | Nov | Dec
What's New for 2006: Jan | Feb | Mar | Apr | May | Jun | Jul | Aug | Sep | Oct | Nov | Dec
What's New for 2005: Jan | Feb | Mar | Apr | May | Jun | Jul | Aug | Sep | Oct | Nov | Dec
What's New for 2004: Jan | Feb | Mar | Apr | May | Jun | Jul | Aug | Sep | Oct | Nov | Dec
What's New for 2003: Jan | Feb | Mar | Apr | May | Jun | Jul | Aug | Sep | Oct | Nov | Dec
What's New for 2002: Jan | Feb | Mar | Apr | May | Jun | Jul | Aug | Sep | Oct | Nov | Dec
What's New for 2001: Jan | Feb | Mar | Apr | May | Jun | Jul | Aug | Sep | Oct | Nov | Dec
What's New for 2000: Jan | Feb | Mar | Apr | May | Jun | Jul | Aug | Sep | Oct | Nov | Dec