Resident Evil: Retribution interviews:
Interview with Milla from ShockTillYouDrop.com:

How has your character evolved at this point? How are you tackling Alice in a new way? Milla:

You know, Alice started off as the audience, as this innocent bystander watching what's going on and then finally understanding what role she had to play in all of it and who she was. And then throughout the series, she kind of started separating from people. First she realized Umbrella was controlling her, so she couldn't be close to people. Now that she's human again, and not only human again, but now she's almost... I mean, this is her life. It's like when you spend 10 years of your life at war, what else do you have, in a sense? This is what she knows. This is what she loves in a weird, sick way. It's what she does best. It's how she excels. I don't know if she would be able to become a teacher or have some sort of career outside of what she does. This is what she does best. And I think in this one, she has a little bit more of a sense of humor about it and is a little more relaxed with it. It's not as shocking as it normally is. In a sense, now she's got her friends, her team, she's part of a team. She's a human being again, so she's connected with the people around her. And she has fun with them. In some strange, twisted way, she gets a kick out of it.

Can you talk about the weapons training and the guns you use? You've always got a signature gun.
Milla: Yeah, we've got the Kriss Vectors this time, which I actually did a video of that I Tweeted, which are really wonderful guns. They've actually never been shot on screen before. They used a version of them on Total Recall, but they kind of did them up in some crazy sci-fi way. But these are the original bad-ass Kriss Vector guns. They are amazing in the way they fit and the way we have them incorporated into the costume.

You have two weeks left on this one. Are there any ideas percolating for the sixth?
Milla: This is the first time Paul had an idea for number six, where there's a story that we talked about, a year ago now, that was five and six. We were just talking about it. I said "And then what happens?" Then naturally, it was "Well, this and that and this is why and this is actually going on." He does have sort of a rough basis for a sixth movie.

So, you feel this one is going to be a companion piece to the sixth one? Is it kind of a cliffhanger?
Milla: We never make these movies thinking another one is going to come around the corner. I think that's part of what makes them so great, is that you don't have that comfort of going "Oh yeah, we're just shooting them back-to-back. Whatever." We put 100 per cent of our passion into each one and I think the audience reacts to that. Definitely, there's some ideas, potentially, for a sixth movie.
01.19.12 - From Milla (@MillaJovovich) about the Resident Evil: Retribution trailer:
i love how ironic the trailer is! some reviewers don't think so, they say its a sony commercial! lol! but its in keeping w all our past teasers, starting on something that looks like a commercial and the POW! THE REAL DEAL STARTS!
i especially love that sony wld use poduct placement for the "end of the world"! lol! very brave. and the commercial is the "typical" cheesy add that sony would never do for a real commercial! too cool! i think its very smart and dynamic! i'm so glad u all love it n remember...every trailer after this will have more and more cool, different stuff as our sfx get finished! GO RE!!! going back 2 my bubba on vacay as its our last day and we go home tomorrow! bye guys! have a grt one! xo m
yes its the tron music, but who doesn't love daft punk?! we thought it fit perfectly 4 the teaser in a pinch n i think it shld stay...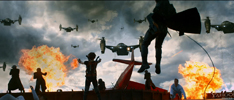 01.18.12 - From Milla (@MillaJovovich) about the Resident Evil: Retribution trailer:
Gotta get back 2 work! So now OFFICIALLY paul got an email saying the RE:RETRIBUTION teaser will b out -and I quote- "tomorrow thurs. the 19th at 1pm EST/10am PST. US is launching w Yahoo Movies n int'l markets r each securing a local launch site (whatever that means! Lol!) the trailer will launch on the official movie site http://www.residentevil-movie.com as well". But i actually jst checked that site n the "retribution" site isnt up yet which is weird. Im contacting sony today n will keep u posted as soon as i hear back from them. So there u go! A bit confusing for me a well as for u all... Don't worry, I'll get to the bottom of this, Mai tai in hand (woot woot!). Xo m
01.17.12 - Dirty Girl is now available on DVD! [ Amazon ]
Stills from millajovovichfan.com:
01.12.12 - From Milla (@MillaJovovich):
So I jst asked paul and he said 4 SURE the teaser 4 "RE:Retribution" is coming out on the 18th of jan! I'm sure it will b online. Then on the 20th it comes out in 3D in front of the new "underworld" movie! So there you go folks n now I'm over and out, going on vacation with my family 4 a week! Tweet u later! Xo m

@NicolasMallea the RE teaser is AMAZING! And it's only got stuff from the 1st 3 weeks of filming! So every trailer after will hve more n more rad stuff added as they finish editing them! So exciting!
I remember having an accident on the freeway n our car started spinning. We spun through 3 lanes of traffic. I watched it all happen so slowly, the cars coming at us, the divider coming closer. It was almost... Peaceful. Then I braced myself for that divider coming at me. Hit it side on. It must have taken 30 sec at most. Felt like a lifetime at the moment. Can't believe I'm still around to tell the tale. Tweet u later guys! Thank you for sharing your experiences every1! Xo m
01.11.12 - Resident Evil: Retribution official synopsis from Screen Gems:
The Umbrella Corporation's deadly T-virus continues to ravage the Earth, transforming the global population into legions of the flesh eating Undead. The human race's last and only hope, ALICE (Milla Jovovich), awakens in the heart of Umbrella's most clandestine operations facility and unveils more of her mysterious past as she delves further into the complex. Without a safe haven, Alice continues to hunt those responsible for the outbreak; a chase that takes her from Tokyo to New York, Washington, D.C. and Moscow, culminating in a mind-blowing revelation that will force her to rethink everything that she once thought to be true. Aided by newfound allies and familiar friends, Alice must fight to survive long enough to escape a hostile world on the brink of oblivion. The countdown has begun.
So I jst asked paul and he said 4 SURE the teaser 4 "RE:Retribution" is coming out on the 18th of jan! I'm sure it will b online. Then on the 20th it comes out in 3D in front of the new "underworld" movie! So there you go folks n now I'm over and out, going on vacation with my family 4 a week! Tweet u later! Xo m

@NicolasMallea the RE teaser is AMAZING! And it's only got stuff from the 1st 3 weeks of filming! So every trailer after will hve more n more rad stuff added as they finish editing them! So exciting!
I remember having an accident on the freeway n our car started spinning. We spun through 3 lanes of traffic. I watched it all happen so slowly, the cars coming at us, the divider coming closer. It was almost... Peaceful. Then I braced myself for that divider coming at me. Hit it side on. It must have taken 30 sec at most. Felt like a lifetime at the moment. Can't believe I'm still around to tell the tale. Tweet u later guys! Thank you for sharing your experiences every1! Xo m
01.09.12 - From Milla (@MillaJovovich):
Hey every1! It's been a busy new year already! I have cooking scars from all the holiday dinners, burn marks on my arms that are worse than any wound I got filming RE! Lol! Now I've been taking my bubba to school, picking her up and I've enrolled her in the best tae kwon do school here in LA which we go to everyday and she LOVES! Also, tryingto enroll her in a great school for september, so been writing essays and applications and all that. So busy in mommy land and a bit of work of course! Have to look through almost 500 pages of pics from RE and choose... Phew! But today I'm working with one of my closest friends, make up artist Jillian Dempsey for a new Avon fragrance which is fun and then we take the bubba for a week to the beach on Wednesday! Anyway, it's been amazing to just get home and decompress after working so much the last few years. Xo m
What's New for 2017: Jan | Feb | Mar | Apr | May | Jun |
What's New for 2016: Jan | Feb | Mar | Apr | May | Jun | Jul | Aug | Sep | Oct | Nov | Dec
What's New for 2015: Jan | Feb | Mar | Apr | May | Jun | Jul | Aug | Sep | Oct | Nov | Dec
What's New for 2014: Jan | Feb | Mar | Apr | May | Jun | Jul | Aug | Sep | Oct | Nov | Dec
What's New for 2013: Jan | Feb | Mar | Apr | May | Jun | Jul | Aug | Sep | Oct | Nov | Dec
What's New for 2012: Jan | Feb | Mar | Apr | May | Jun | Jul | Aug | Sep | Oct | Nov | Dec
What's New for 2011: Jan | Feb | Mar | Apr | May | Jun | Jul | Aug | Sep | Oct | Nov | Dec
What's New for 2010: Jan | Feb | Mar | Apr | May | Jun | Jul | Aug | Sep | Oct | Nov | Dec
What's New for 2009: Jan | Feb | Mar | Apr | May | Jun | Jul | Aug | Sep | Oct | Nov | Dec
What's New for 2008: Jan | Feb | Mar | Apr | May | Jun | Jul | Aug | Sep | Oct | Nov | Dec
What's New for 2007: Jan | Feb | Mar | Apr | May | Jun | Jul | Aug | Sep | Oct | Nov | Dec
What's New for 2006: Jan | Feb | Mar | Apr | May | Jun | Jul | Aug | Sep | Oct | Nov | Dec
What's New for 2005: Jan | Feb | Mar | Apr | May | Jun | Jul | Aug | Sep | Oct | Nov | Dec
What's New for 2004: Jan | Feb | Mar | Apr | May | Jun | Jul | Aug | Sep | Oct | Nov | Dec
What's New for 2003: Jan | Feb | Mar | Apr | May | Jun | Jul | Aug | Sep | Oct | Nov | Dec
What's New for 2002: Jan | Feb | Mar | Apr | May | Jun | Jul | Aug | Sep | Oct | Nov | Dec
What's New for 2001: Jan | Feb | Mar | Apr | May | Jun | Jul | Aug | Sep | Oct | Nov | Dec
What's New for 2000: Jan | Feb | Mar | Apr | May | Jun | Jul | Aug | Sep | Oct | Nov | Dec