What's new?
06.28.00 - Artwork from Clay Chamberlin:

06.26.00 - An interview from what appears to be a press conference in Japan has surfaced on the Official Japanese Joan of Arc page from Sony. You can download it directly as well (Quicktime, 50.3MB). Also, a picture with Naomi Campbell & Monica Bellucci: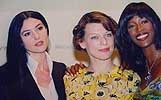 06.25.00 - Blast from the plast - pictures from Madame Figaro (France) March 1993:
06.23.00 - For those of you who use Yahoo! Messenger, I've made a Milla skin you're welcome to use. A screenshot of how it looks is below (it'll look better on your computer - none of that fuzz around "Messages", "Add", etc), along with installation instructions:
Find the Yahoo! Messenger directory on your hard drive. It's probably something like C:\Program Files\Yahoo\Messenger\. If you can't find it, go to the Start button and select Find, then Files or Folders, and search for Messenger.

In the Messenger directory will be a folder called Skins. In the Skins folder, create a new folder called Milla.

Download the ZIP file ym1.zip and save it to your newly created Milla folder.

Unzip ym1.zip, extracting the .bmp files to that same directory.

When you have YM running, choose Edit, Preferences. You should see Milla as a choice in the Current Theme dropdown menu.

Select Milla, then Apply, then OK. Bingo!

If you're having troubles you can e-mail me at colin@millaJ.com. Enjoy!
06.22.00 - Another picture of Milla with Laetitia Casta from the Cannes Film Festival 2000:

06.17.00 - The The Divine Comedy MP3s are up again - I also added the acoustic version of Gentleman Who Fell. Milla presented the American Fashion Award for Womenswear Designer of the Year to Oscar de la Renta on June 15, 2000 at the American Fashion Awards 2000. The event was held at New York City's Avery Fisher Hall at Lincoln Center.
06.16.00 - Milla, John Frusciante, et al from New Weekly (Australia) June 12, 2000 (2) and June 19, 2000 (1):
06.13.00 - News from Milla's manager:
As suspected, The Boathouse has fallen through. Milla hopes to work with Iain Softley in the future.
Milla is currently filming Dummy
After Dummy, Milla & the band (currently Plastic Has Memory, name may change) will spend the summer rehearsing and possibly start recording later in the year. Red Hot Chili Peppers guitarist John Frusciante will be the producer.
Milla may get involved with Rob Schmidt's American Heroes towards the end of the year
06.12.00 - TV (Austria) February 2000

06.07.00 - Musica February 24, 2000
06.01.00 - News from Reuters/Variety concerning Milla's next movie, Dummy.
Autographed clapper, artwork from Peter:
Cannes:
L'Oreal Jet Set (Italy), L'Oreal Rouge Pulp TV ad, L'Oreal Third Millenium ad, various L'Oreal (3)
What's New for 2018: Jan |
What's New for 2017: Jan | Feb | Mar | Apr | May | Jun | Jul | Aug | Sep | Oct | Nov | Dec
What's New for 2016: Jan | Feb | Mar | Apr | May | Jun | Jul | Aug | Sep | Oct | Nov | Dec
What's New for 2015: Jan | Feb | Mar | Apr | May | Jun | Jul | Aug | Sep | Oct | Nov | Dec
What's New for 2014: Jan | Feb | Mar | Apr | May | Jun | Jul | Aug | Sep | Oct | Nov | Dec
What's New for 2013: Jan | Feb | Mar | Apr | May | Jun | Jul | Aug | Sep | Oct | Nov | Dec
What's New for 2012: Jan | Feb | Mar | Apr | May | Jun | Jul | Aug | Sep | Oct | Nov | Dec
What's New for 2011: Jan | Feb | Mar | Apr | May | Jun | Jul | Aug | Sep | Oct | Nov | Dec
What's New for 2010: Jan | Feb | Mar | Apr | May | Jun | Jul | Aug | Sep | Oct | Nov | Dec
What's New for 2009: Jan | Feb | Mar | Apr | May | Jun | Jul | Aug | Sep | Oct | Nov | Dec
What's New for 2008: Jan | Feb | Mar | Apr | May | Jun | Jul | Aug | Sep | Oct | Nov | Dec
What's New for 2007: Jan | Feb | Mar | Apr | May | Jun | Jul | Aug | Sep | Oct | Nov | Dec
What's New for 2006: Jan | Feb | Mar | Apr | May | Jun | Jul | Aug | Sep | Oct | Nov | Dec
What's New for 2005: Jan | Feb | Mar | Apr | May | Jun | Jul | Aug | Sep | Oct | Nov | Dec
What's New for 2004: Jan | Feb | Mar | Apr | May | Jun | Jul | Aug | Sep | Oct | Nov | Dec
What's New for 2003: Jan | Feb | Mar | Apr | May | Jun | Jul | Aug | Sep | Oct | Nov | Dec
What's New for 2002: Jan | Feb | Mar | Apr | May | Jun | Jul | Aug | Sep | Oct | Nov | Dec
What's New for 2001: Jan | Feb | Mar | Apr | May | Jun | Jul | Aug | Sep | Oct | Nov | Dec
What's New for 2000: Jan | Feb | Mar | Apr | May | Jun | Jul | Aug | Sep | Oct | Nov | Dec