What's new?
11.19.02 - Celine ads:
11.11.02 - Resident Evil will be released on Superbit DVD on Milla's 27th birthday, December 17, 2002 (available now for pre-order at Amazon). The sound & picture on a Superbit DVD is much better than on a normal DVD. Basically, they are encoded at approximately twice their normal bitrate. There are less extra features; instead, that space is used for optimizing picture & sound. Some of the features include: Digitally Mastered Audio & Anamorphic Video, Widescreen Presentation, Audio: English 5.1 (Dolby Digital) and DTS, Subtitles: English, Portuguese, Spanish, French. See superbitdvd.com for more information on the Superbit format.

The world premiere of You Stupid Man was October 18, 2002 at The Hamptons International Film Festival: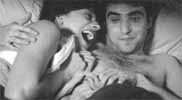 The House on Turk Street (formerly known as No Good Deed) poster, cover plus 2 from D (La Republica Delle Donne) (Italy) November 2, 2002:
11.10.02 - From Return to the Blue Lagoon, six wallpapers from Love Ablan (hi-res versions available at loveablan.com), 2 Molinari ads, Donna Karan ad:
11.05.02 - Today is the release date for Return to the Blue Lagoon on DVD (available at Amazon:

11.03.02 - Milla will be on the season premiere of FOX's King of the Hill tonight!



What's New for 2017: Jan | Feb | Mar | Apr | May | Jun |
What's New for 2016: Jan | Feb | Mar | Apr | May | Jun | Jul | Aug | Sep | Oct | Nov | Dec
What's New for 2015: Jan | Feb | Mar | Apr | May | Jun | Jul | Aug | Sep | Oct | Nov | Dec
What's New for 2014: Jan | Feb | Mar | Apr | May | Jun | Jul | Aug | Sep | Oct | Nov | Dec
What's New for 2013: Jan | Feb | Mar | Apr | May | Jun | Jul | Aug | Sep | Oct | Nov | Dec
What's New for 2012: Jan | Feb | Mar | Apr | May | Jun | Jul | Aug | Sep | Oct | Nov | Dec
What's New for 2011: Jan | Feb | Mar | Apr | May | Jun | Jul | Aug | Sep | Oct | Nov | Dec
What's New for 2010: Jan | Feb | Mar | Apr | May | Jun | Jul | Aug | Sep | Oct | Nov | Dec
What's New for 2009: Jan | Feb | Mar | Apr | May | Jun | Jul | Aug | Sep | Oct | Nov | Dec
What's New for 2008: Jan | Feb | Mar | Apr | May | Jun | Jul | Aug | Sep | Oct | Nov | Dec
What's New for 2007: Jan | Feb | Mar | Apr | May | Jun | Jul | Aug | Sep | Oct | Nov | Dec
What's New for 2006: Jan | Feb | Mar | Apr | May | Jun | Jul | Aug | Sep | Oct | Nov | Dec
What's New for 2005: Jan | Feb | Mar | Apr | May | Jun | Jul | Aug | Sep | Oct | Nov | Dec
What's New for 2004: Jan | Feb | Mar | Apr | May | Jun | Jul | Aug | Sep | Oct | Nov | Dec
What's New for 2003: Jan | Feb | Mar | Apr | May | Jun | Jul | Aug | Sep | Oct | Nov | Dec
What's New for 2002: Jan | Feb | Mar | Apr | May | Jun | Jul | Aug | Sep | Oct | Nov | Dec
What's New for 2001: Jan | Feb | Mar | Apr | May | Jun | Jul | Aug | Sep | Oct | Nov | Dec
What's New for 2000: Jan | Feb | Mar | Apr | May | Jun | Jul | Aug | Sep | Oct | Nov | Dec