What's new?
12.23.05 - Sony has launched a website for Ultraviolet (February 24, 2006) where you can register for updates on the film. Also, 3 more Ultraviolet pictures:
Milla wearing Jovovich-Hawk at the L'Oréal Paris & Harper's Bazaar Silent Auction (December 8, 2005):
12.20.05 - Milla will not be filming Welcome to America as previously reported.
12.17.05 - Milla is 30 today!
12.13.05 - Ultraviolet has a release date! February 24, 2006. [ Article ]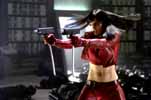 12.11.05 - Milla attended Harper's Bazaar's benefit, "As Seen In - ", for the Ovarian Cancer Research Fund in Westwood, California (December 8, 2005) where she talked about her own experience surviving cancer:
Milla Jovovich had a personal interest in the "As Seen In - " the Harper's Bazaar benefit for the Ovarian Cancer Research Fund in Westwood on Thursday night. And not just because she's a spokeswoman for the company that sponsored the cocktail reception at the Lindbrook Gallery.

"I'm a survivor of cervical cancer because I caught it early," Jovovich said as she bid on iconic photography and designer fashions during a fundraising silent auction. "I'm doing everything I can to boost awareness, testing and early detection of every kind of cancer."

Jovovich says it was her eight-year association with L'Oreal Paris, coupled with her exposure to the OCRF, that led to her own early diagnosis four years ago.

"I wouldn't have caught it had I not been educated about women's health issues through my work with L'Oreal," added Russian-born Jovovich.
Picture from Ultraviolet, Leeloo from The Fifth Element fanart by Cathy:
What's New for 2018: Jan |
What's New for 2017: Jan | Feb | Mar | Apr | May | Jun | Jul | Aug | Sep | Oct | Nov | Dec
What's New for 2016: Jan | Feb | Mar | Apr | May | Jun | Jul | Aug | Sep | Oct | Nov | Dec
What's New for 2015: Jan | Feb | Mar | Apr | May | Jun | Jul | Aug | Sep | Oct | Nov | Dec
What's New for 2014: Jan | Feb | Mar | Apr | May | Jun | Jul | Aug | Sep | Oct | Nov | Dec
What's New for 2013: Jan | Feb | Mar | Apr | May | Jun | Jul | Aug | Sep | Oct | Nov | Dec
What's New for 2012: Jan | Feb | Mar | Apr | May | Jun | Jul | Aug | Sep | Oct | Nov | Dec
What's New for 2011: Jan | Feb | Mar | Apr | May | Jun | Jul | Aug | Sep | Oct | Nov | Dec
What's New for 2010: Jan | Feb | Mar | Apr | May | Jun | Jul | Aug | Sep | Oct | Nov | Dec
What's New for 2009: Jan | Feb | Mar | Apr | May | Jun | Jul | Aug | Sep | Oct | Nov | Dec
What's New for 2008: Jan | Feb | Mar | Apr | May | Jun | Jul | Aug | Sep | Oct | Nov | Dec
What's New for 2007: Jan | Feb | Mar | Apr | May | Jun | Jul | Aug | Sep | Oct | Nov | Dec
What's New for 2006: Jan | Feb | Mar | Apr | May | Jun | Jul | Aug | Sep | Oct | Nov | Dec
What's New for 2005: Jan | Feb | Mar | Apr | May | Jun | Jul | Aug | Sep | Oct | Nov | Dec
What's New for 2004: Jan | Feb | Mar | Apr | May | Jun | Jul | Aug | Sep | Oct | Nov | Dec
What's New for 2003: Jan | Feb | Mar | Apr | May | Jun | Jul | Aug | Sep | Oct | Nov | Dec
What's New for 2002: Jan | Feb | Mar | Apr | May | Jun | Jul | Aug | Sep | Oct | Nov | Dec
What's New for 2001: Jan | Feb | Mar | Apr | May | Jun | Jul | Aug | Sep | Oct | Nov | Dec
What's New for 2000: Jan | Feb | Mar | Apr | May | Jun | Jul | Aug | Sep | Oct | Nov | Dec