May 2012
From Milla's Twitter (@MillaJovovich):
Hey every1!It's a big night here in NYC!I'm representing 4 my mentor, inspiration n friend Muccia Prada who's being honored by the #metball! (May 7)

From @DerekBlasberg: Just like old times: Dinner with old friends (NOTE: not friends who are old) @MillaJovovich & @ChrissBrenner at Bond St (May 8)
@DerekBlasberg @ChrissBrenner you 4got 2 mention who the photographer is! my 4 yr old daughter! look at the symmetry! look at that framing!

Crazy news! In actually going 2 perform my new music at the "life ball" in Vienna!!!My single is called "electric sky" n it's gonna be SICK! (May 9)
So anyway, 40k ppl are gonna b at the "life ball" on the 19th which ROCKS! And @chrissbrenner @stuartzender n I will b rockin the crowd as we close the fashion show w our new track! And I'm trying to get it on iTunes, courtesy of my man Randy Jackson who's been so supportive of our new music! Thanks randy, u r an angel!
I'm making a video 4 "electric sky" which should be out online by July, but hey the "life ball" heard the track and flipped 4 it, so we decided "u'll never b ready if u try 2 b, so jst go 4 it"! Lol!
@mddeese yes! My single "electric sky" shld b available on iTunes by the 18th of may (if i can get it 2gether in time! Lol!)
@amkvinta yes! I did a song called "the mission" (iTunes / Amazon MP3) w maynard j, keenan 4 his newest band @puscifer! N u can download my demos from my website!
@AALIYAH_AKASHA I'm trying 2 release a 6/7 song ep in sept! "electric sky" is the single we decided on!
@thevinnys yes! We'll definitely perform in NYC! Hopefully this summer or early fall!

Me n my boy marc jacobs at the met ball! Thanks 4 the pic @WinnyBeale! RT @MillaJovovich you looked absolutely stunning at the Met Gala! This picture is perfect.

I'm shooting the new "Avon" fragrance commercial, so I'm tweeting between takes! Lol!
And yes!"avon's" fragrance is divine AND u hide the smell of human flesh when u wear it,so the undead can't smell you! It's win/win ppl!Lol!

It's so incredible at the #LIFEBALL! I had the privilege of meeting our former pres. Clinton! He is doing so much 2 help fund medicines 2 reach children in 3rd world countries working with an unbelievable woman named catherine tucker who has an orphanage in Cambodia. They save children's lives every single day. What a honor to meet the real heroes. (May 19)
Lol! It's a bit blurry but finally here is a pic of bill Clinton n I! I already have one with Hillary, so my collection is complete!
hey! here's a link 2 @chrissbrenner, @stuartzender and i playing our new single "electric sky" at the #LIFEBALL! (May 20)
@_MyNameIsAdam_ i didn't lip-sync blood! i was singing live to track!
Costume Institute Gala, The Metropolitan Museum of Art, May 7, 2012, New York City




Avon shoot, May 9, 2012, New York City





Life Ball welcome party, Vienna, Austria, May 18, 2012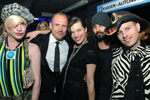 Life Ball, Vienna, Austria, May 19, 2012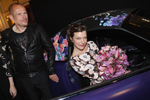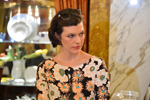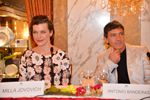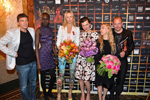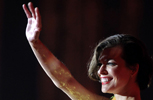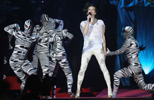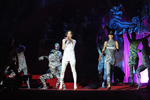 ---
65th Cannes Film Festival
Chopard and L'Oréal Party, Cannes, France, May 23, 2012









Premiere of On the Road, Cannes, France, May 23, 2012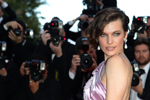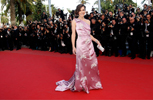 Milla at amfAR's Cinema Against AIDS gala at Cannes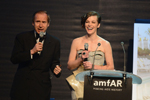 Into the Gloss, May 2012 [ article ]