September 2011
From Milla's Twitter (@MillaJovovich):
Hey every1! 2day was my 1st official day in fight rehearsals! I'm gonna try and film some bits tomorrow 4 u all! (Sep 12)
The choreography is stunning though. I'm so excited by how everything looks. The moves are fresh n new, I think ppl r gonna b flippin when they c it!

Hey guys! Here's a little training vid! I can't show any real choreagraphy, but u get a little feel! Njoy! Video (Sep 13)
Hey every1! End of the day n I'm knackered!I'm building my strength up n doing a lot of stretching 2 get my kicks up 2 shape.Still pathetic.

New vid! I need 2 turn my hip out more on the roundhouse kicks, but my punches r solid! Will get better! Video (Sep 14)
Like mother, like daughter! Ever Gabo shows us that zombie killing really is a family affair! Watch this vid! Video

So I'm learning a back hook kick 2day. Its part of the choreography n looks amazing(when its done right! Lol!) Video (Sep 15)

the red square sequence is THE MOST COMPLICATED CHASE SCENE PAUL HAS EVER PLANNED FOR! ITS GONNA BE EPIC! (Sep 17)
its gonna be SIIIIICK!! paul leaves the production meeting reeling from the logistical complications off how 2 shoot them!!
actually, i won't be there in person, but if you see a big crane in red square, thats our unit filming!!!
claire, chris and kmart have been abducted by the umbrella corporation. we have to try and save them!
yes! shawn roberts is back as wesker and more badass then ever! of course its not so easy to kill him!
yes! sienna is back as jill valentine!
yes! epic battle sequence w alice and jill! its siiiiiick!!!
i can't talk too much about the creatures in the film, but don't worry, you won't be disappointed!
we are still casting ada wong, but she IS in the new movie!
RE will be in 3D! my husband is obsessed w the new technology and we take the extra time 2 make sure no one has a headache after!
2 answer sum popular questions:chris,claire n kmart have been captured by umbrella n benson ankles is working on a tv show n is unavailable.
i've got an amazing fight w a bunch of zombies AND an epic fight w jill valentine!
nope! some will, but we have new characters coming on this one. hopefully we'll get every1 together 4 RE6!! lol!
we wld love 2 make a 6th where every1 is back together! but the fans will decide after they see this one!
paul always listens 2 the fans i.e. ada wong, leon and barry burton will b in the new RE!
we'll b the 1st movie 2 hve a chase scene in a rolls royce which we will get shot up, but still runs cause they're awesome!
alright guys! gotta go! 1 let mini spoiler tho! we will hve the Las Plagas parasite!!! have an awesome day!
Sony Pictures Classics 20th Anniversary Party at the 2011 Toronto International Film Festival, September 11, 2011




Elle (Germany) September 2011




Io Donna (Italy) September 2011










Jalouse (France) September 2011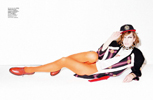 Moves (US) Fall 2011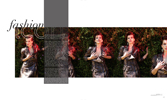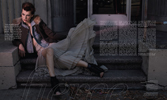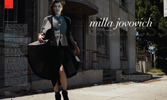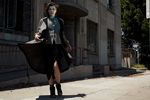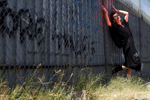 Rika (Holland) Fall/Winter 2011