Vogue (Australia) January 2000

Milla's Arc
by Howard Feinstein
At 24 she has been married twice, successfully modelled, twice, and is now becoming an actor, for the second time in her career. Milla Jovovich is on the comeback trail. Again.
---
Anyone exposed to the quite unpredictable mix of wild child and composed ingenue that is Milla Jovovich will be surprised to learn that she feels pigeonholed. "People see me in a film and get a boxed view of who I am," complains the thin, leggy actress with the globular blue eyes and cantilevered lips. "When I did He Got Game [in which she played a yappy, platinum-wigged flophouse hooker named Dakota for director Spike Lee], people imagined me as an illiterate street girl. With every new movie. I just want to go kooky in the opposite direction."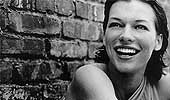 It shouldn't surprise then that, after Dakota, Jovovich chose Joan - as in "of Arc" - who is as spiritual as the former is earthy. Directed with a dazzling, time-defying, postmodern spin by Jovovich's soon-to-be-ex-husband, Luc Besson, The Messenger : The Story of Joan of Arc dramatises the life of the 15th century Catholic peasant girl who claimed to hear voices from God; led French forces against the English during the Hundred Years War; helped install the duplicitous Dauphin as King Charles VII; suffered a crisis of faith; and was burnt at the stake by the English, with French Catholic complicity, at the age of 19. Jovovich may be best known as the model and face of L'Oreal, the alien android Leeloo in Besson's The Fifth Element, and - to a lesser extent - as the lead singer of her band, Plastic Has Memory, but, in acting terms at least, Joan promises to be Jovovich's breakthrough performance.
I first meet the actress in October, in the staid tearoom of a mid-Manhattan hotel. She wears no make-up; her hair is pulled back; and she is in a plain green sweater and grey-green skirt. The simplicity of her appearance contrasts with her excitability - the heavily expressive gestures that cause some to think of her as, first and foremost, a loose cannon. She looks beautiful.
A week later, I encounter a more bridled Jovovich when I present her with the Star of Tomorrow Award at the annual luncheon of the Motion Picture Club, a group of assorted film industry mavens, in the huge ballroom of the Waldorf-Astoria Hotel. We are seated side-by-side on a dias, facing 550 people chowing down on a meal of overcooked chicken.
Her hair brushed down, face made up and her lips dark red, she wears a schoolgirlish ensemble designed for her by Italian designer Miuccia Prada ("I love her beauty, her aura," says Jovovich): a bluish crepe skirt, beige sweater over a pink polka-dotted black blouse, and stunning, high black heels.
Her hands hug each other nervously, but, otherwise, she is demure, docile - the well-behaved celebrity, doing what she thinks she is supposed to do. "You look innocent," I remark. "I am innocent," she responds, without irony. She even shushes me once, for talking.
Jovovich learnt deportment skills early, beginning at the age of 11, when she posed for her first magazine cover. Her voice, however, needed grooming.
The dialogue track of Lili, her character in one of her early films, William Graham's softcore Return to the Blue Lagoon, shot in 1990 in Australia when Jovovich was just 14, is painful to hear. (Although she surely knew her allure on the set, where her butt hung teasingly out of her baggy shorts while the camera shamelessly ogled her.)
But how her voice has blossomed in the years since! Dakota, the strung-out tough in He Got Game, and Joan have the same hoarse tones and rounded vowels (hinting at a lingering Russian accent) that soothe the ear, even when the parts demand hysteria. Her calmer moments are appropriately naturalistic.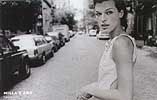 The vocal transformation has been helped by her music, which Jovovich has worked on for years. She sings and plays rhythm guitar with five guys, who are currently holed up in her New York apartment while she stays in a hotel. In the tearoom, she pops an audiocassette with the song Creature into my recorder and warbles morbidly, "I'm dy-ing, dy-ing, dy-ing." It is haunting. She calls their music "sonic lounge-y". The up-and-down shift between Joplin-esque cries and bluesy purrs echoes her cinematic range.
Jovovich was born in 1975, in Kiev, Ukraine, the only child of a Russian performer, Galina Loginova ("she was an amazing actress"), and a Montenegrin father, Bogich Jovovich. ("They're men's men in Montenegro, very macho, especially up north where my Dad and all his brothers and cousins are from.")
While her father trained to be a doctor in London in the early 80s, she fled the Soviet Union with her mother. The family ended up in California, where the marriage broke down and Loginova, who had custody of her daughter, cleaned houses.
Once Jovovich's modelling and acting careers took off, Loginova became a legendary catwalk and stage mother. Her father, according to a recent article in Details, eventually got involved in a billion-dollar health-insurance fraud, and was only recently released from prison. Jovovich herself got into some minor scrapes with the law in high school, but says her wild days are over. Her elopement at 16 to fellow Dazed and Confused cast member Shawn Andrews ended in an annulment, ostensibly orchestrated by Loginova.
But, the actress claims, she is no longer under the thumb of her mother. "Thank God I'm finally over the big awe that was an obstacle to me - coming out on my own as an actor," she says. The production of The Fifth Element, in which her character didn't have a single line of comprehensible dialogue, marked a turning point.
"Luc said to me, 'You really have to get over your mum. You're never going to be able to play the part if you are scared. Your mum makes good tables; nobody makes tables like her. But you make great chairs. So what if you can't make great tables? It's not your talent.' It was like 'Yeah, I make great chairs!'
"The Fifth Element was the first movie I did as a young adult in control of my own security, or insecurity, if you like. Before then, I was always in her shadow, and always too scared to do anything, and so fake and not believing in anything I was doing, because I just didn't understand it.
"She was very supportive. It's just Russian discipline. It's very strong. There is not much room for compliments. It's always, 'It's what you didn't do good we'll talk about.' Especially coming from your mum: it's not coming from an acting coach, when you might actually learn something. There's always that fear that you have of your parents, especially if you're doing what they did. And mothers always tend to feed into your fears," she explains candidly.
Now she has opened herself up to other influences such as Jeremy Davies, her co-star on the recently wrapped Million Dollar Hotel, directed by Win Wenders and produced and co-written by U2's Bono. ("There's Mel Gibson, too," Jovovich says of the cast. "I suppose his name may be above ours.")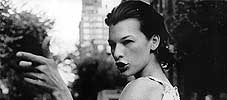 "Jeremy's so sweet. A lot of great artists can be difficult. I think that if your art makes you into a complete dick, like, what's the point of your art? Anyway, Jeremy is so inspiring, so articulate with his emotions, and so logical with breaking down a situation. I'm so the opposite: here and over there, and maybe I'll add a bit of this and see what happens," she says, gesticulating wildly. "He really taught me. Now I try to take my own thoughts and put a little order into them."
As the Maid of Orleans, Jovovich follows in the footsteps of such canonised actresses as Ingrid Bergman and Jean Seberg, both of whom struggled with the demanding part. Jovovich's Joan is a revelation. A voice. No interfering mum. And a complete absorption in the part and how to play it.
"Joan of Arc was very idealised in other movies about her life: I couldn't get a grip. Nobody tried to give this girl a bit of humanity. I couldn't have played her like a saint," she says. "We started digging deeper into her doubt. We came up with this conscience coming down to her [embodied by Dustin Hoffman, with whom she converses in her jail cell]. How pure could she possibly be, when she's responsible for a lot of deaths? For me, what made the movie interesting to make was the question of how a girl can be a saint after having that much blood on her head. She needs to pay for it. She's got to go through a major redemption. You can't just do 10 Hail Marys and forget about it."
Jovovich plays Joan with an androgynous, almost shocking, carnal edge: she kneels and grabs the arse of the Dauphin (John Malkovich) in front of the entire court (including a wonderfully bitchy Faye Dunaway as the Dauphin's Machiavellian mother-in-law Yolande d'Aragon).
"Joan transferred her love to flesh and blood; she was almost high from it," says Jovovich with conviction. "You've got to take it out in some way. I like these amazing soul searches where everybody's singing and people are screaming. That's so much more healthy than at these buttoned-up Protestant white events, like, 'Now, we'll say our prayers, and now let us sing', and everybody is so estranged, and then they will go screw their daughters or have sex with prostitutes, or do all the behind-the-curtain stuff. Humans need to release. What better way to release than go, 'Yeah, Lord. wow! I love you God, yes, yes, yes!' Then you're not going to go home and do strange stuff."
Organised religion, though, is not her thing: "It's such an obvious route to controlling people. I never bought into it. Things started with religion, then moved on to science. Now it's moved into a whole new realm of physics and theoretical maths, people looking at how to unlock the brain. It's scientific, but it's also spiritual, because it has to do with the evolution of the mind. That, to me, is God."
What lies ahead for this star of tomorrow? It seems that, like a secular, latter-day Joan of Arc, Jovovich herself is suffering a crisis of conscience. She seems to have confused attitude with commercialism, at once drawn to it - "I need to get a little more mainstream...a romantic comedy, or beautiful period piece" - and at the same time concerned about selling out. It may be a bit ironic, considering how many companies she has promoted. But her experience trying to re-engage in modelling at the age of 18 after a three-year hiatus has left scars.
"My agency was saying I was passť, over. People were saying that I was too commercial. Then I did a few jobs and looked so androgynous that they said she's not commercial enough: 'We need someone more commercial and more pretty.'
"I want so badly to make something honest and real in my life that's going to span time after I'm gone," she says. "I want to be able to leave something behind that people will understand. Yes, I'm almost 24, but I always think I'm going to die."
The Messenger : The Story of Joan of Arc is due for release next month.