USA Today November 1999
Milla Jovovich, in her element
By Elizabeth Snead, USA TODAY
---
LOS ANGELES -- At 13, Milla Jovovich was an international fashion model. At 15, she starred in Return to the Blue Lagoon. She has played a perfect being (in Luc Besson's futuristic The Fifth Element) and an imperfect saint (Joan of Arc, in Besson's The Messenger, opening Friday).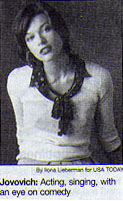 Is there nothing that frightens this young woman?
Three words: full body cast.
For the Messenger scene in which Joan is burned alive, a realistic effigy had to be made of Jovovich. "I didn't think anything of it at first," recalls the pale-skinned, 23-year-old beauty over coffee outdoors at Orso. But then "they started painting me with silicone and telling me 'we'll do your face last.'"
She shivers at the memory. "I never thought I was claustrophobic. But they stuck two tubes up my nose for air and were going to cover my nose and mouth, and I was freaking out. (Besson) just kept talking to me and holding my hand. If he hadn't been there --"
The two, who married after making Element, divorced after Messenger. "But we are still good friends," Jovovich says. " It's really wonderful to have somebody who stays your friend through thick and thin. It goes beyond so many limits and boundaries."
But then Jovovich has never seemed to know boundaries. She has worked for directors as varied as Richard Attenborough (in Chaplin), Richard Linklater (Dazed and Confused) and Spike Lee (He Got Game). Her most recent outing: Wim Wender's noir murder mystery The Million Dollar Hotel, produced by U2's Bono and starring Mel Gibson and Jeremy Davies.
She has even tried her hand at pop stardom, though her first album, 1994's The Divine Comedy, wasn't exactly a chart-topper. (Apparently there were balalaikas involved.) She has since formed a slightly punkier band, Plastic Has Memory, which has been playing clubs in Los Angeles and New York.
"We're not really rushing to record an album. We just want to be a band, get to know each other, write and play."
Being in a band that isn't making money is no problem for Jovovich, who models for big bucks and has a lucrative L'Oreal contract.
The money means she takes only the film roles she likes, as well -- and Messenger was one she felt compelled to take on.
"I read the transcripts of (Joan's) trial, and she was very outspoken, very funny, sarcastic and spoke before she thought," Jovovich says. "She was definitely slightly off, that's for sure."
But enough with the physically exhausting epics. Jovovich has her sights set on a nice, light romantic comedy.
"That in itself is another challenge, because I haven't done that yet and they say comedy is the hardest. And I've got a lot of strong competition for comedies, that is for sure. But I'll make it. I can do anything."