Jane June/July 1998
At home with Milla Jovovich
Check out Milla's house. She's no Martha Stewart. And she likes it like that. Newlywed and actress Milla Jovovich invites Geri Richter Campbell over for dumplings. Portraits by Steven Sebring. Interiors by Chris Brenner.
---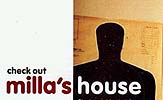 If you're spending time at Milla Jovivich's place, don't forget your Benadryl (she has three cats). The 22-year-old model/actress/musician/photographer admits that she and her roommate, Chris, had wanted to keep their 2000-square foot NY loft clean and spare. But afer moving in four years ago, they quickly filled every corner with wall mirrors, bottles, books, etc. Hey, things happen.

The costar of Spike Lee's "He Got Game" was influenced by her mother's eclectic style and her own street sense- a good combination when you have to pull together apartments in New York and Paris, and finish renovating a Normandy château. When it comes to decorating tips, Milla has just one: "Buy stuff you like." Sounds good to us.
MILLA'S REGULAR AT-HOME WEAR ~Long-sleeved blue-gray baggy tee ~Plaid flannel pj bottoms ~Open-toed navy leatherette old-lady house shoes ~Bright pink toenail polish ~A perfect dirty-brown bob with reddish streaks, which Milla cuts herself; she's not a big fan of perfect haircuts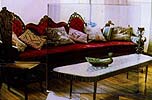 MILLA'S BOHEMIAN WORLD-TRAVELER-CHIC LIVING-ROOM DECOR ~Guitars, guitars, guitars. Her favorite is a spruce-wood acoustic Epiphone ~Pillows, pillows, pillows (they're her roommate's) ~Pile of coffee-table books not piles on coffee tables ~Drum set ~bongos ~wall hangings- as in, Indian print bedspreads tacked to the wall ~Grandama lamps, including a gold elephant table lamp ~Purple table mosiac- a favorite of Milla's ~Camera equiptment, including a vintage Rolleiflex, which Milla takes everywhere with her ~Candlesticks ~Wall mirrors

MILLA'S SUPERGROOVY KITCHEN/HANGOUT ~A refridgerator that's full of film on the inside and graffiti provided by friends and exboyfriends on the outside ~cobalt glass collection ~a prized candleabra that Milla found in Greece ~A gold crushed-velvet divan, where Milla watches the Simpsons religiously, answers piles of fan mail [*someone* must know that address!] and eats all her meals- she never chows at the table ~Milla's watercolor of a nude woman (her favorite subject to draw and photograph these days), inspired by an Egon Schiele exhibit at the Museum of Modern Art ~plaster-of-paris wall hangings from a trip to Costa Rica ~a Virgin Mary icon from Mexico

PERFECT WEDDINGS, THE MILLA WAY Milla married 39-year-old director Luc Besson, whom she met while starring in his film The Fifth Element, last December. The two gambled in Las Vegas and wed at Chapel of the Bells, then sky-dived from a plane the next day.
"Marriage isn't the hard part," she says. "It's figuring out what you want to do with your life. Making decisions about your life is so intense that marriage pales in comparison. Marriage is great to share with someone, but it comes down to you- we all have to face the fact that we're solitary creatures who at some point have to face out lives alone." Peraps with that in mind, Milla and Luc split their time between New York and Paris, not always on the same schedule. "Seeing each other means vacation time," she says.
CULTIVATING CHARM, THE MILLA WAY ~Buy your mom a house in Los Angeles, like she did ~Refer to our husband by his first and last name when you're not sure what to call him, like she does

MILLA'S AFTERNOON HOME-IMPROVEMENT ACTIVITIES INCLUDE...
Cooking lessons: Actually, waiting anxiously for her deli order of fried chicken dumplings, Oreo cookies and a Coke, all of which take way too long to arrive
Grooming: Pulling fur off one of her three cats: Gwilo, Carlos, or Vida (time to grab that Benadryl)
Fashion show: Showing off her Helmut Lang purchases - a skirt with crinoline overlay and some sexy tees
Fitness: smoking a lot of Parliaments