Jalouse June 1997
The Fifth Wonder of the World
By Isabelle Lefort

Milla never stands where you're waiting for her. You think she's in Cannes, or in New York, but she's in Los Angeles already. She is having appointments with productors. Today, everybody wants to work with her. From directors to photographs. But Milla knows what she wants and what she doesn't. Demanding, perfectionnist. She wants to put a lot into projects she believes in. She wants to look like nobody else. Before he discovered her to play Leeloo's role, the perfect woman, the fifth element, Luc Besson had seen two thousand women. This casting will probably be remembered as the most nerve-racking of the entire cinema history.
At the end of these months of searching, Luc Besson, exhausted, said the actress who would get this role would probably be the most beautiful girl of the 20th century. Once in the adventure, Milla prepared herself for the shooting for a year and a half. She was involved in the movie totaly, fully.
Luc Besson was always fascinated by aquatic women. Milla has a modern siren's body. Her beauty can't be judged through her outline, but through her forms and bumps. A pure poetic thing.You think she is sun-tanned, and suddenly, the rose from her cheeks reminds you of a Botticelli. When she appeared down the Palace stairs, (un)dressed by John Galliano, wearing a silk embroided tull dress... Jeanne Moreau said she had the thickness of a woman who is all but ephemeral...

Milla has a jerky laugh. She laughs, she sulks... evasive, nearly galactical. She eludes all definitions. Generous as well. When she gives you time, as she did for us, you're almost embarrassed that she opens herself so easily, whereas everyone told us she would give us only five minutes. Milla is definitely astounding.
Free, totally free. Excessive. Her escapades with her group of friends, Mario Sorenti, Kate Moss and Johnny Depp make the fashion milieu happy. And, when at the party in Cannes, in the Villa Gaumont, she stands quiet, everybody remains astonished, nearly dumbfounded.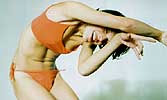 Chris Brenner, her agent from Next, friend and confident, nicknames her "my little Barbie". When he met her, she was 15, he was 26. "It was in a music studio, where we were recording an album. At this time, the productors wanted to make a pop star of her. Music is for her as a second nature. Her mother, a Russian actress, raised her in the arts. She sings, she plays guitar, she writes texts. She immediately amazed me asking me if I had learnt Honoré de Balzac. The day after, she phoned me back. I couldn't believe it. This girl lives in an extreme way. She believes in talent, not in image. She is totally honest. She is bursting with energy. It's crazy how this girl can be so busy. I don't know anybody else who reads as many books. From literature to philosophy, and history. She reads everything. She is not perfect, far from it, but her force is to be able to acknowledge that she does make mistakes. She has a furious desire to live, to be happy. She wants everything." And we're delighted with it.
How was your experience at the Cannes Festival?
It was a sublime moment! I don't care about critics. What makes me happy is the movie's success in the view of the young people. We managed to make people smile. And that's wonderful. I like to see the kids in the street calling me Leeloo in a scream. I like to watch them when the movie is over, their eyes are sparkling. We gave them happiness. And that's magical! You cannot buy it.
Did you love the movie, personaly?
The first time I watched it, I didn't like it. I watched it once again, and I appreciated it. The more I see it, the more I like it. It's got a very positive message. It's honest, true. It's incredible that it can be number one at the american box office in a week end. It's wonderful.
Was it easy to work with Luc Besson?
Luc Besson is someone whom it's difficult to please. He is very demanding. During the shooting, he was sleeping in the studio. He was the first person to wake up. At five in the morning, he rewrote a part of the script. Bruce Willis and I arrived at six and discovered... In the evening, he was always the last to leave.
All the rumors from Cannes... They said you'd had an affair with
Luc Besson, Bruce Willis? (Milla bursts with laughter) Oh, I'm not aware of it, please tell me! I love rumors. They're based on no real facts. It makes me laugh. If it does some advertising...the better for the movie.

You seems to have a love-hate relation with the world of image?
I'm living on that. You can earn a lot of money as a model, and that's very good. But I don't want to be locked in a cage like a rabbit for all that. It's a very good job to make money. It's not too demanding. It's easy. But it's very time consuming. And that's difficult, because I don't have time enough to do everything I like. That's what annoys me the most.
What are you plans for cinema now?
Nothing has been signed yet. But I'm working on different projects. I'm going to resume my comedy lessons. I want to involve myself in the cinema. But I don't want to do anything for all that. A movie, it's a meeting between a director, actors, a story. I want to involve myself totally and to work with the bests. I'd love to work with Woody Allen, Spike Lee.
And Quentin Tarantino? (Milla laughs...)
Of course, all the bests...
And what about music?
I can't live without that. With Chris Brenner, we're working on an album for the band "Friends of Dorothy". I hope it'll be finished at the end of the year.
You really like to read, but don't you want to write as well?
I definitely love books, totally. I devour them. It's impossible for me to choose but one. To write? Yes, of course I'd like to do that. But you must have accumulated experiences, emotions. You need time. It's still too early.
What do you want to do in your life?
I want to be happy, I think. To be myself, to be true. Not to lie. We had to struggle when we came to the States with my mother, we did not have money. I don't want to experience that anymore. I want to be happy. I'd like to put a permanent smile on my face.
What's the thing you hate the most in life?
Deceptions. People that life has made on the defensive. Afterwards, they become embittered and violent.
What's the first thing you do in the morning?
I light up a cigarette.
What would you like to say the day you die?
Fuck you!