Glamour June 1997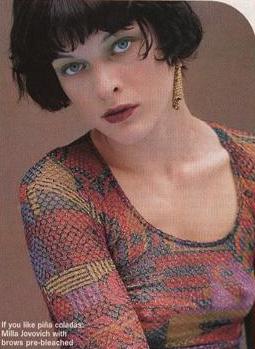 Star Turn: Milla Jovovich
by Michele Shapiro
"I like myself with no eyebrows," says Milla Jovovich, who has just bleached her graceful arches pina colada yellow. "It's a strange android-like look."
Her far-out appearance will fit right in on Europe's catwalks, which 21-year-old Milla has prowled for a decade. It's also perfectly space-suited for promoting The Fifth Element, a new sci-fi thriller in which she costars with Bruce Willis.
The film opened in the States shortly after kicking off this year's Cannes International Film Festival on May 7 and should help to balance out Milla's earlier screen disaster (including the waterlogged Return to the Blue Lagoon and the police parody Kuffs).
If not, Milla always has her music to fall back on. With its poetic lyrics and haunting vocals, her 1994 debut album, The Divine Comedy, won over even the most dubious critics. "I'm constantly reinventing myself," says the guitar-playing singer, who was born in the former U.S.S.R. But as for fame, this Russian's not rushing; she'll take some time to smell the bleach along the way.
You're reported to have a love for things magical and otherworldly. Is that why you wanted to be in a science fiction movie?
I like to read that kind of fiction, but I never expected to be in a sci-fi movie. [In The Fifth Element] my character died a few thousand years before the film begins. Scientists on earth find a single cell and are able to regenerate her. To me, that's really exciting.
What three things would you put in a time capsule for your great-grandchildren to discover?
My poems, my guitar and some clothes that would look good on a young girl. I'd also include some of my modeling pictures so they could say, "Yeah, granny was hot."
Do you prefer acting to modeling?
Definitely. Acting is an art form; it's getting in touch with human nature. There are so many ordinary moments - scratching or coughing, for instance - that you can relate to when an actor recreates them well. I need another good 16 years to be a Meryl Streep.
How much do you think you heritage has shaped your life?
Very much. I've had a European upbringing even though I was raised in America. My mom had me reading Jack London and Greek mythology at age nine.
You say you may want to go to college someday. If so, what subjects will you study?
Math, chemistry, physics - all the things I was bored with in high school. I didn't understand the importance of math then, which is stupid. It provides the building blocks of reality.
Your singing style has been compared with those of Stevie Nicks and Kate Bush. What'll be different about your next album?
Me. My old songs are sweet and beautiful. The newer ones have a little more aggravation and frustration - all the -ations.