Premiere (France) December 1999

Hotel California
---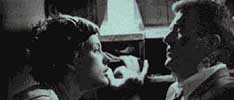 Downtown Los Angeles
Two blocks away from the business district, Main Street crosses a district still ignored from the town hall and promoters' rehabilitation efforts. One begs, one deals, and one films there. The building, which inspired the scenario for The Million Dollar Hotel, and also constitutes the main setting of the movie, is now 80 years old. Considering the speed at which Los Angeles continuously reinvents itself, it almost makes this building a historical one. The hotel's days of glory go back to the Thirties. It has now become a refuge, a crossing point for all kinds of people with tormented destinies. Bono, the singer, discovered this place while filming a music video more than 10 years ago. He immediately started writing down ideas for the scenario of a film. Win Wenders also met him during the filming of a video and was seduced by the project. Nicholas Klein who had collaborated with the director of "The End of Violence" went back to work with Bono.

The setting for the movie is in an immediate future
Wenders emphasizes the fact that the movie is a love story. Milla Jovovich and Jeremy Davies (who was seen in Saving Private Ryan and suggested by Sean Penn) play the roles of two oddballs somewhat lost and looking for their identities, which they end up finding. Apparently, to better prepare for their characters and their roles, the two actors stayed at the hotel before the actual filming in order to submerge themselves in the spirit of the hotel. But at the heart of the story, there is a crime and an investigation carried out by a stiff police officer. Mel Gibson plays the role of the police officer. And Jimmy Smits does a 180 going from the role of a police officer in NYPD Blues to that of a gangster. Amanda Plummer, Peter Stormare and Gloria Stuart of Titanic fame, constitute the rest of the cast.

A European in the hills of Hollywood
A good part of the movie was financed by the advances on the international sales given by Mel Gibson's company, Icon. The filming took place last winter with cheaper lower technical equipment in order to reduce the costs. It's the second movie in 3 tours directed by Wenders whose work, after having us travel from Berlin to Lisbon going though Tokyo, seems focused in the New World. Wenders knows the city perfectly since he owns properties in Hollywood. Between the Germans who constitute the technical team, and the Irish Bono with the scenario, the ambiance remains very European. Bono, who will be credited as a producer for the movie, will make a short appearance. There is a possibility of 4 new songs by U2 on the soundtrack.
The Million Dollar Hotel could come out in the US before the end of the year in order to be considered for the Oscars. It could also be in the Cannes Festival.