Ellus Jeans 1998
(from Ellus - online article originally Portugese, translated by altavista.digital.com, cleaned up by Michael Hayes & Jim Belonis)
Additional pictures: ellus2.gif, ellus3.gif, ellus5.gif, ellus6.gif, ellus7.gif, ellus8.gif, ellus9.gif, ellus10.gif, ellus11.gif, ellus12.gif, ellus13.gif, ellus14.gif, ellus15.gif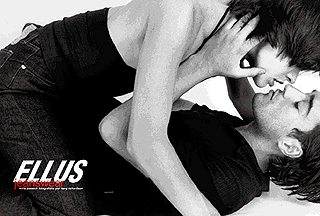 The Russian actress and model Milla Jovovich marks a new phase for Ellus. The young woman, considered one of the most beautiful and desired women in the world, is the current model of the new campaign of the brand. Briefly, her face will be on outdoor billboards spread around the city, besides being integrated in the new catalog, with photos by the English photographer Terry Richardson. Milla became known in Brazil with the film "The Fifth Element", by the French director Luc Besson, in which she portrayed the role of Leeloo, next to Bruce Willis and Gary Oldman. Besides acting and modeling, her modern beauty (crystalline green eyes and sensual mouth) imprints the campaigns of diverse international companies, among them, Calvin Klein, Blumarine, Iceberg, Chanel, Versace and, more recently, for L'Oreal. Milla also was considered by the English magazine "The Face" one of the one hundred most important personalities of the fashion scene.
For Nilson Lighter, owner of the brand, Milla combines two features to represent the current phase of Ellus: strong personality and glamour. According to him, the model is the ideal person to lend credence to the motto of the brand, that exists to create "true clothes for true, urban, healthful and dynamic youth".
Born in Kiev, Milla moved to California, at five years old, with her parents. Precocious, at nine years of age, already she was making films, such as "The Return to the Blue Lagoon" and "Chaplin". "The one who put me in movies was my mother, who is also an actress. She always influenced me in everything. I admire her more and more," she affirms proudly. Milla was recently cast in the film "He Got Game", alongside Denzel Washington, under the direction of Spike Lee. The film, still unknown in Brazil, was one of the champions of the box office in the United States. She was also in the last edition of the traditional Pirelli calendar (as the muse for the month of February), photographed by Bruce Webber.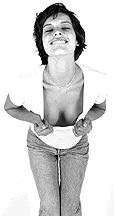 At eleven, Milla was discovered by an modeling agency who called upon her for catalogues and editorial work. In a short time, she was photographed by Richard Avedon, one of the greatest photographers of all time. The model believes she has had much luck in life: "I never thought about becoming a model, it happened by chance. Today I am thankful for being in this profession. It is amusing work, one knows people legitimatel,y and I've travelled a lot," she says, making it clear that she would like to know more of Brazil. Beyond her career as an actress and a model, Milla discloses that her true passion is music. While still in Russia, she learned to play the piano, "for tradition". Living in the United States, while time sharing between New York and Los Angeles, she decided to assemble a band who still takes her name and has released only one compact disc, "The Divine Comedy": "I very much like to sing and to write music. It is my passion. My influences have been singers like Kate Bush and Joni Mitchell, but I like rock and soul also. At the moment I am composing music for our next disk."
In August of 97 Milla was fiancee of director Luc Besson, who she recently married and they live in a castle in the south of France. Impassioned, Milla declares happily: "Luc makes me feel good. It's very romantic. I speak with him every day when I am in New York", the actress explains who defines herself as "a very jealous" woman.
The model confesses that she has a normal life. [Avessa a badalagues], she says that she prefers to be at home with friends drinking beer and playing music. When she is alone, she likes to read and to compose: "At the moment, I am reading 'In Cold Blood', by Truman Capote." Her favourite activity is to eat outside with a group of friends. The place doesn't matter. "It is not for the place that I go out, but for the company and the conversation. This is what amuses me."
The model does not confess to having any beauty secrets, and she avoids diets and exercises. "I do nothing to stay in shape. I take certain precautions, but I am not radical. My only vice is smoking."
Currently Milla is dedicated exclusively to her new cinematic challenge, the super production "Joan Of Arc", in which she portrays the medieval heroine turned saint. The film, directed by Luc Besson, as yet does not have a scheduled release date.