Details October 1999
Planet Milla


Table of contents: It's model/actress/genetic-lottery winner Milla Jovovich's world. We're just living in it.
Article intro: With Joan of Arc hitting theatres next month, singer, supermodel, and genetically perfect being Milla Jovovich ponders what comes after sainthood
By William Shaw - Photographs by Norman Jean Roy
---

Bono admits he was nervous when Milla Jovovich was cast in The Million Dollar Hotel, the movie he co-wrote about the destitute inhabitants of a run-down Los Angeles hotel.
"It's just an accident waiting to happen," he says, "when you ask a supermodel to go to downtown L.A. and look believable."
The film was shot by director Wim Wenders in a real hotel in a part of the city frequented by the city's itinerants, mentally ill, and welfare dependents. But when Bono visited the set, he found Milla didn't stand out - instead she fit in all too well, hanging out with the locals to the point that Bono and others became concerned. "It was a little bit frightening, her ability to assimilate her circumstances. In fact, we had to work to get her to leave the hotel on weekends."
Now, having just seen the second cut of the movie, which is expected to come out later this year, Bono is electrified by the strange power of Milla's performance. "She got it so right," he says. "I kept asking myself, 'Where did she get that from?'"
Jovovich had been appearing in films since she was 12, but had shown little sign of any substantial on-screen charisma until 1997's sci-fi thriller The Fifth Element, in which she had to burst into life half-naked in a laboratory and convince the audience that she was a 100% perfect, if somewhat scary, alien uber-babe. From the moment Milla's fist smashed through the test-tube glass to throttle a graying military officer - terrifying the pants off the scientists who'd just created her - it was clear that here was an actress who was determined to make an impression. Milla was no longer content just to be a waif-like fashion model who had ambled her way through such dismal flicks as Return to the Blue Lagoon and Kuffs. Like Bono, viewers were left wondering, "Where did she get that from?"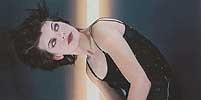 At first, it's hard to see where she did get it from. Milla Jovovich meets me at the Carl's Jr. on Cahuenga Blvd and Sunset Blvd in Los Angeles. It's mid-day and she's picking at her breakfast, a chicken fajita. She's dressed in a gray top that reads "Mermaid Lounge", a simple skirt, one of those recently fashionable, vaguely Eastern European-looking headscarves, and a pair of split-toed Nike Air Rifts.
She comes across initially as quiet-spoken and polite. When she says words like fuck in conversation, which she doesn't very often, she's liable to add, "Excuse me", politely, afterward.
Only when she begins to talk about her lead role in the soon-to-be-released movie The Messenger: The Story of Joan of Arc do her eyes start to burn. She's very passionate when she talks about France's most famous Brit-kicker. "This girl is insane. She's wild. She's like a Tasmanian Devil!"
While preparing for the part, Milla watched clips from every previous Joan movie, right back to the 1928 silent La Passion de Jeanne d'Arc. She read Bernard Shaw's play. None of them got it right, she insists. They have idealized her too much. "She's so much above you!" she says. "People think of her as noble, so she's noble in every darned scene. Hello? She does fart, you know."
A pause. "On-screen?" I ask.
"We don't actually show those things," she replies dryly.
"Thank heavens for that."
The fire suddenly goes out. A more timid Milla reappears. "Oh, my God," she says. "Don't print that. That's so awful."
"What? That Saint Joan farts? It's perfect!"
"Yes . . . it's a good headline, but please . . . " She looks uncomfortable. "These are exactly the things people get mad at me for saying."

To understand Milla you have to understand her mother, former Soviet actress Galina Loginova. Milla was born in Kiev in 1975 and has dim memories of watching her on the set before she and her parents defected to the West. "She was amazing, man. She was just beautiful," she says.
In 1981, Milla's father, Bogich, was training as a doctor in London. When Galina was given permission to visit him there she seized the chance to escape from Moscow; the family immediately moved to what they imagined would be a better life in California. Their imagination was a little faulty.
"After being an actress, Mom was cleaning people's houses," remembers Milla. The vicissitudes of life in a new country put a lot of strain on her parents' relationship, she believes, and it didn't survive. Milla, their only child, remained with Galina.
In the past Milla has candidly described her mother as "pushy". In a sense, Galina lived out her own ambitions vicariously through her daughter. She enrolled Milla in her first drama class when she was 9. Milla shot her first horror scene when she was 10, in a movie that was never completed: She played a little girl molested both by her father and the devil. In the absence of a special-effects budget, her mother improvised as the Antichrist. "My mom was Satan, which is true in a lot of respects," she says. Then: "But I love her anyway."

The following year, Milla signed with a modeling agency and, at age 11, shot her first cover, for the Italian magazine Lei. By 14 she was being filmed bare-breasted for Return to the Blue Lagoon. That was the same year that EMI's SBK Records signed her to a development deal.
Milla was on a juggernaut, and none too sure she was enjoying it. Her life was not her own. "You're a teenager, and you've got people that you think are really experienced working with you, and you - kind of - are scared to say anything, because you feel like, 'What do I know?'"
Milla doesn't remember much about her last 4 years at school. This may have something to do with how she discovered the joys of smoking a bongload of dope before breakfast and maybe another one afterward. She hung out with rich boys who listened to West Coast rap, took loads of drugs, and tried to act like b-boy taggers, writing on walls.
She got into trouble for shoplifting and credit card fraud. At the time, she was commanding thousands in modeling fees - by age 15 she had banked a million. "Stupid", now she acknowledges. "I just tried to be cool, you know?"
The lid finally blew when, at age 16, she found herself cast in Richard Linklater's teen comedy Dazed and Confused. On the set, she spent long hours between takes in the trailer with a young man co-star named Shawn Andrews, and the couple ended up eloping to Las Vegas. Her mother stepped in fast and the union was annulled. When I ask Milla whether the marriage was an attempt to escape from what her life had become, she says, "Yes. Probably, I think."
Instead, a gay man eventually became her real route to independence. Chris Brenner, a 26-year-old musician she'd met through a friend while working on her album for EMI, listened to her playing some of her own songs - instead of the ones the record company had suggested for her. He said: "I can't believe you're not recording the stuff you're playing for me." It was what she'd been waiting for someone to tell her. "He was the first real friend who helped me to stand up to my parents and to the record company and rebel, in a way," Milla says, still grateful to him after all these years.

They started writing together; Milla moved in with him. In 1992, at the age of 16, she announced she was giving up modeling and ran away to London with Chris. She finally completed her debut album, The Divine Comedy, a collection of strange, haunting, self-penned nouveau-folk songs with a kind of heartfelt and almost utterly unfathomable lyrics that any teenage girl would write. Yet it was a far more honorable debut than anyone could expect from a young supermodel. The album won her respect and continues to sell moderately.
But in 1994, the London interlude ended. She moved to New York to resume modeling and acting. "For personal reasons," she says. "Financial reasons."
There were also problems back at home. Around the time she left London, her father, Bogich Jovovich, was sentenced for participating in a health-insurance fraud. This was no run-of-the-mill fraud - it was reportedly the biggest in American history, involving more than $1 billion in claims. Bogich pleaded guilty to 7 fraud-related counts and was sentenced to 20 years in prison. Milla used to visit him there, until he was released this year.
She says she doesn't want to talk about her family. "I don't want to spill my sob story to the world."
"A lot of my history is based on survival," she says. "I mean, it's sort of the Russian way of thinking."
Luc Besson at first passed on Milla for the part of Leeloo in The Fifth Element after she arrived for her audition wearing makeup and high heels. But later he chanced upon her at a L.A. hotel and saw the other Milla, relaxed, scruffily dressed - the Milla who had always been desparate to escape the model treadmill.
She fell in love with the director, and they were married in Las Vegas at the end of 1997. Last year the couple set out to work together again, making Joan of Arc. But as filming wrapped in the Czech Republic, reports emerged that all was not well between the couple. In April she announced their separation and plans for divorce.
"I don't think we're going to get into that in this interview," she says, almost inaudibly.
"Is your relationship with Luc finished?"
She laughs, dryly. Then a flash of anger enters her voice. "I don't know. How can any relationship be finished? Am I dead? Is he dead? No . . . our relationship continues to be what it is," she ends vaguely. "There's nothing to say."
Milla's personal relationships - with her controlling mother, her wayward father, and her lovers - haven't been easy. It's no surprise that recently she's felt the urge to return to her career as a rock musician. It may be her least successful career yet, but that's the one she's in total control of. She and Chris have a new band. Every day she drives from the apartment they share in West Hollywood to the recording studio, where she works writing and practicing for 10 hours a day. They're hoping to sign a deal with Virgin.
She's been writing new songs. In a small spiral-bound notebook that a fan gave her, she jots down short phrases that may be useful. Opening to a page in it, she reads out a line: "So open all the doors, and then I won't be home after all."
To Milla, that seems to carry some ineffable freight, as if after a childhood of being told how to stand by a photographer or how to deliver a line by a director, just the act of making something up herself is enough. "It's like every line represents something," she says, sweetly and earnestly unconscious of how mundane that sounds.
If Bono wonders where Milla gets her on-screen intensity, I guess it's from this wide-eyed conviction - bottled up for half her career - that it all should mean something more; more than just selling clothes by posing for cameras, at least.
It's 8:30. Milla has been running through songs since the early afternoon. Sitting cross-legged on the floor, trying to play along on her guitar as her band thumps out the music behind her, she can't seem to get it right. Her frustration shows. As the chorus returns, she stands and starts singing again. Milla has a hauntingly beautiful voice, slightly rough around the edges, but surprisingly full considering her sleightness. Now the passion she has for her lines, however vague they may be, fills them out. Every muscle in her body tenses as she sings, pumping her hips back and forth, in her own world, her eyes clamped shut. Then, abruptly, her voice gives out. She stands at the mic, silently, as the band completes the song around her, then she walks thin-lipped, out of the room. She has disappointed herself. She wanted so badly to do this right, to make it special.
Chris announces that he's going to find some coffee. For once, Milla sounds like a model when she orders a caramel frappuccino and then obsesses: "I don't know why I do it. It'll upset my stomach."
"Guilt talk," I say. "I want it, but I don't."
"Story of my life," she says, flashing her huge beautiful smile.